This is the first real tournament where we get the chance to see how Tiger will fare in 2013. This is a big year for him. No majors won this year will mean that he has little chance to ever catch Nicklaus' record. The crowds at Torrey Pines will be gigantic following this threesome, all of whom are originally from California.
Watney is poised for a great year. He had a big win at the end of last year and I think a major may be the next thing for him.
Puma kid needs another win under his orange belt. I'm tired of him getting top 10s all the time. He has the talent to win 4 or 5 tournaments a year. I'm not sure about majors, though. I can see him winning a US Open or a British Open but not the PGA or Masters. I'm hoping the all orange outfit is kept in the closet this year.
What a great pairing. Wish I was there.
I'm pretty sure Phil is there, trying to figure out how he's going to pay his electric bill with all these new taxes.
[img]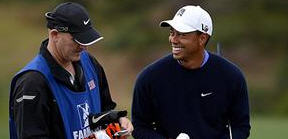 [/img]